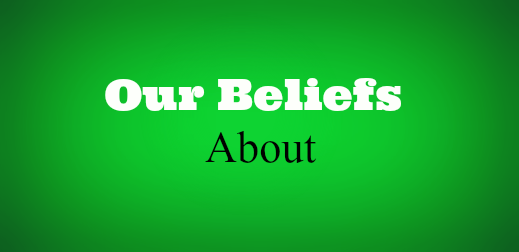 THE MILLENNIAL REIGN (CHRIST 1,000 YEARS' REIGN)
After Christ appears upon earth, He would set up His Kingdom with the Holy people for one thousand years – Rev. 20:1-6; Rev. 2:26-27. This one thousand years will be entirely different from any kingdom ever set on earth. The Kingdom is peace all over – Is 65:18-20. There will be no death – Is. 65:18-20. There will be no poverty – Mich. 4:4; Is. 65:21-23; Christ is the ONLY KING in the Kingdom – Dan. 2:44-45; Dan. 7:13,14,22,27.
SATAN IN PRISON
At this time – millennium, Satan will be chained – Rev. 20:2-3, and it will be the time of peace and blessing to mankind also – Is. 11:6-9; 65:25; Hosea 2:18; Zech 14:9-20; Is 2:2-4.
THE COMING JUDGEMENTS
We believe that there will be three special judgements. i) The Judgement of the Believers: This would start immediately believers are caught up in the sky, they shall stand before Christ. After this judgment they will descend down with Christ upon the earth – II Cor. 5:10; I Cor. 3:3; 11-15; James 1:12; Rom 2:16. ii) The Judgement of the Nation: This will be the time when Jesus appears upon earth between the millennial reign and final judgement. Acts 17:31; Joel 3:2; Ez. 14:15; Jud. 1:14-15; II Thess 1:7-10; Rom 2:16; Rev. 1:7; Mal. 16:21. iii) The Judgement of the Unbelievers: or the White Throne Judgement : This will happen after Christ's one thousand years reign at the White Throne. – Rev. 20:11-15; II Peter 3:7; Dan. 12:2.
NEW HEAVEN AND NEW EARTH
The Word of God teaches us that after judgement, this wicked world will be removed. God will create a new Heaven and a new earth in which HOLINESS will exist – Matt. 24:35; II Peter 3:12-13; Rev. 21:1-3; Is. 65:17:; 66:22
ETERNAL LIFE AND ETERNAL PUNISHMENT
The Bible teaches us that there is eternal punishment as well as eternal life – Matt. 25:46. The wicked people will be sent to a fiery hell made of sulphur, to be tormented both day and night. The punishment will continue forever and ever – Rev. 14:10-11; Luke. 16:24; Mark 9:43-44.
DEDICATION OF CHILDREN
We believe that after a child is born on the 8th day, the parent should bring himher unto the House of the Lord for dedication unto the Lord – 1 Sam. 1:22; Luke. 22:22-24; Matt. 19:13-15.
THE LORD'S DAY
We believe that the first day of the week called Sunday is a special day which the believers should separate as the Lord's day during which time are to gather to worship – Acts 20:7; 1Cor. 16:2; Rev. 1:10. The Lord resurrected on the first day of the week – Mark 16:9; Ezek. 31:12-14.